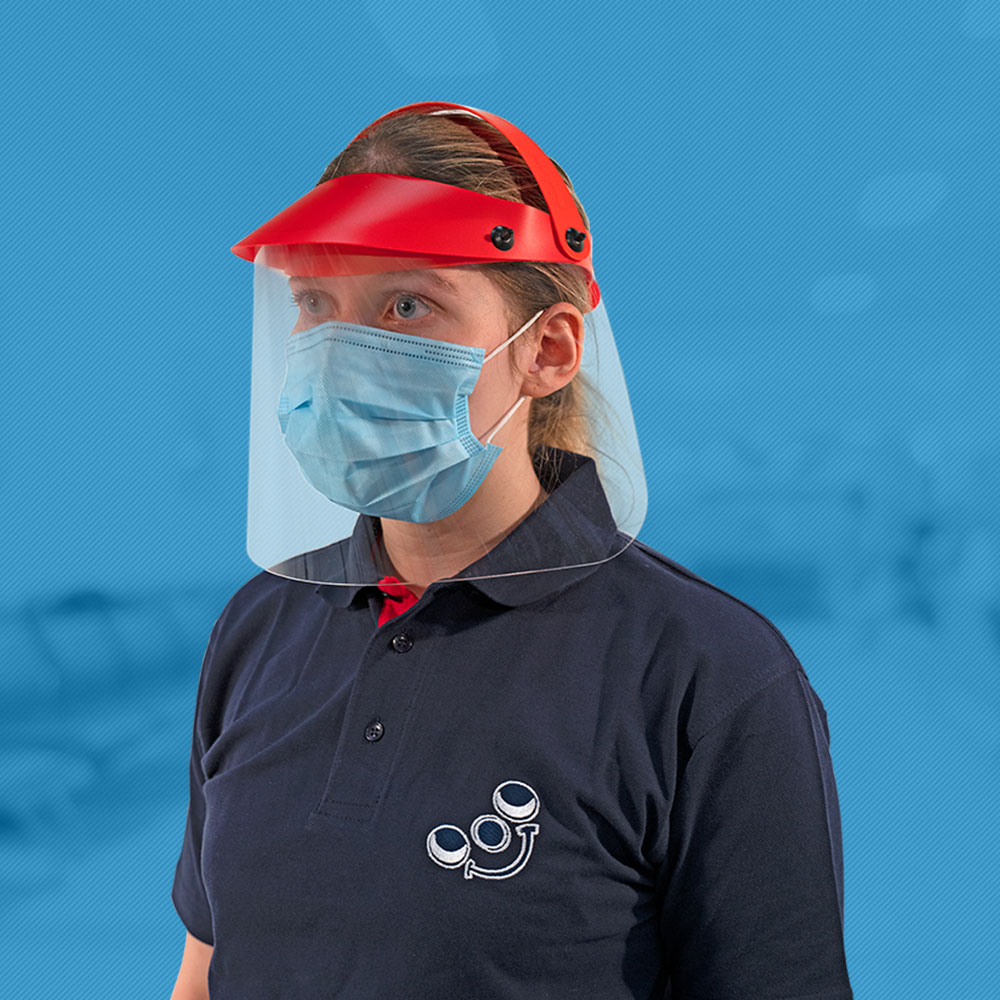 In response to the COVID-19 outbreak, our Design & Manufacturing teams have worked hard to quickly develop a Face Shield that is effective, comfortable, reusable and can be manufactured in high volumes immediately. These face shields have been developed with and are currently in use with *Worcestershire NHS Trust, West Midlands Ambulance Service, Birmingham Children's Hospital and The Gibraltar Health Authority. 
* Working Partners during response development and testing, no endorsement claimed or intended.
– Colours and specification may change without prior notice due to variance in supply chain.
Contact our sales team by email or phone. We are prioritising dispatch to Healthcare and Frontline users. We are able to dispatch face shields direct from our UK factory.
Order No. 912208 Pack of 36 Face Shields (fully assembled).
Order No. 912325 Pack of 100 Face Shield Self Assembly Kits.
We're normally known for our vacuum cleaners (most famously our Henry vacuum). We make over 1 Million vacuums every year from our factory in Somerset, UK. Numatic is a leading brand in the design and manufacturing of commercial cleaning products, exporting to over 80 countries. We have urgently re-tasked our Research & Development Teams, Production Specialists and Manufacturing Teams to work across projects where we can help in the COVID-19 crisis. 
Face Shield User Guidance
View cleaning guidance and technical data sheet via the following link:
The visors are reusable but sterilisation is a decision for each health authority based on their processes and risk assessments.
If you have ordered flatpack Face shields assembly instructions can be downloaded below.
This initiative is aimed to provide an open source solution, allowing others to access this quality, robust, but simple to manufacture face shield.
We are happy to help with the supply of the connecting rivets needed for this design.
Safety & Regulatory Notes
This product has been produced in a non-sterile environment, clean before use following your existing SOP (Standard Operating Practices). These items of PPE that Numatic International Limited has developed for the NHS and other front-line health providers, have completed some internal assessment and testing to the regulations and standards but are not CE marked.

As per the Government's announcement on 28th March 2020, to help get products into the NHS supply chain as quickly as possible, certain regulations for these types of PPE were relaxed. This statement confirmed that certain PPE products, required during this epidemic need not bear a CE mark or be fully tested. They should still, however, meet essential safety requirements. This PPE fulfils this requirement.

The face visor, understandably in the current environment and speed of production, has not been certified to BS EN 166:2002 or any equivalent standard. We do, however, believe it would conform.
Do not leave home if you or someone you live with has either:
a high temperature
a new, continuous cough
Do not leave home if you or someone you live with has either:
a high temperature
a new, continuous cough